Easily Track and Manage Your Invoices
Experience unparalleled control over your invoicing process with our advanced factoring software, featuring automated alerts and seamless financial system integration.
Online invoicing has never been easier.
Revolutionize your invoice processing with our comprehensive suite of tools and services. Our solutions support everything from purchases to debt collection, so you can streamline your workflow and boost your productivity.
Easy Invoice Registration

Minimize manual handling and quickly register multiple invoices with our virtual printer. Clients can print invoices from their business system, and our decision engine handles basic credit checks.

Efficient Credit Control

Access quality credit information when needed with our connections to Sweden's leading credit and business information providers. Our decision engine can handle decisions based on your credit process for faster results.

Smooth & Simple Purchase Process

Manage large invoice volumes effectively and minimize errors with our smart solutions, including calculation of fees, provisions, and deposit management.

Role-based Process & Management

Ensure secure access with encrypted information and two-factor authentication. Our advanced role-based system enables the division of responsibilities for invoices or clients in the process.

Easy Recipient Delivery

We partner with print and distribution companies to send invoices electronically via email, e-invoice, or physical mail without requiring your active input.

Customer Portal

Our user-friendly customer portal allows clients to register their invoice in your system, speeding up the process and improving quality. Clients can check the status of sold invoices, reducing phone inquiries.
Ready to get started?
Book a demo today.
We help you get started in no time. Book a demo today and get an overview of how we can help you streamline your business.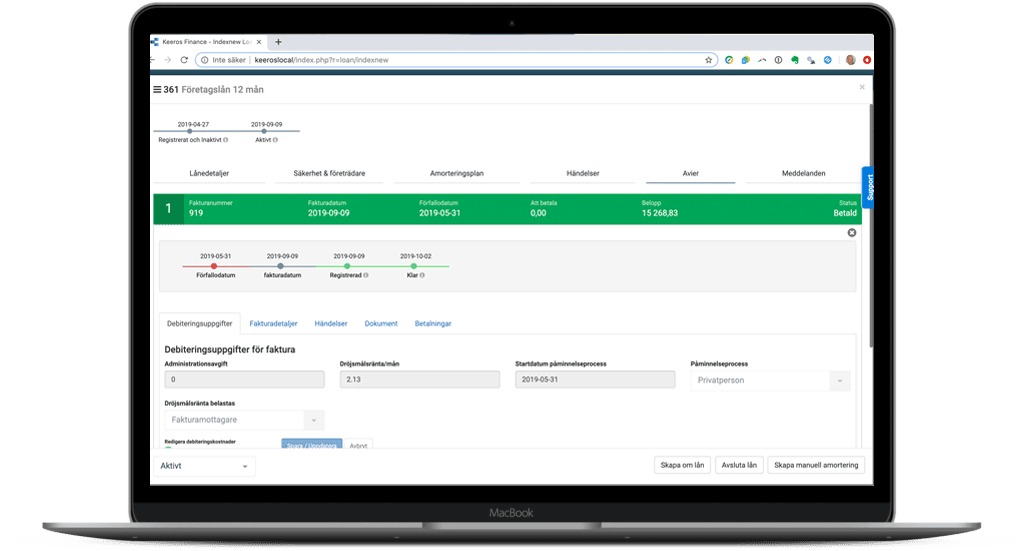 One Platform - Many Solutions
Invoice Financing in Different Forms
With our factoring software, invoice management can be offered in many different forms. We support invoice purchasing, invoice financing, and invoice management without financing. We can also offer tailored solutions to meet your specific needs in business financing.
Invoice Financing

The solution for those who want to finance an entire accounts receivable and charge for the utilized limit. Naturally with support for automatic handling of doubtful accounts and everything that classical invoice financing entails.

Invoice Purchasing

We handle invoice purchasing, both with and without recourse, with the option to manage risk through deposits and escrow accounts.

Invoice Management without Financing

We offer services for invoice management without any connection to financing. Whether you want to offer pure invoice management as a service, use invoice management as an addition for your customers, or to manage risk.

Tailored Solutions

Our platform is built for flexibility and to meet your specific needs in business financing. If our standard solutions don't cover your needs, we can customize a solution for you.